It's my tremendous pleasure to announce that the next Designer Spotlight is on our fearless founder -
Vicki Stegall!
One of my favorite stories that Vicki likes to tell is how she came up with the name "Oscraps". Vicki says that she kept trying to come up with a name that wasn't taken, but every time she checked, the name was spoken for. Apparently, she kept saying "Oh crap." Finally, her husband suggested that be the name of her site....Oscraps! Is that hilarious?!
Vicki always has fun stories to tell and always has such a free spirit about her. Which works perfectly into the challenge she cooked up for her spotlight. It's all about freedom!
Vicki has a $2 coupon for everyone who participates! On top of that...she will randomly draw for 1, 2, & 3rd places -for $20, $15 & $10 coupons!!!
Isn't she generous! So without further ado, here's Vicki with her challenge!
Freedom
In the states, we celebrate our freedom as a nation this month. Freedom is defined as
1) The power or right to act, speak, or think as one wants without hindrance or restraint
and
2) Absence of subjection to foreign domination or despotic government
.
Freedom can be about religious and political ideologies, but it can be about the personal too!
Freedom from:
school (summer break)
Self doubt
Negativity
Weight problems
Health problems
Addiction
As humans BEING, we are fundamentally free!
Free to be who we are
Free to love who we love
Free to live the life we want to live
Free to laugh as long and as loud as we want
Free to dream big dreams
Free to exalt in the EXTRAordinary AND the ordinary
Free to thrive
What does freedom mean to you? What makes you feel free?
Vicki has a new gorgeous kit in the store that is full of reds, oranges, yellows...colors that bring to mind heat and passion. It's perfect to scrap about what your passionate about! Complete Vicki's challenge and you will get at least $2 to her store. You could pick up this amazing kit with it!!
Check out all of Vicki's products in the store!
And to get you started, she even has a
free add-on for you
! Download this
freebie
in the store!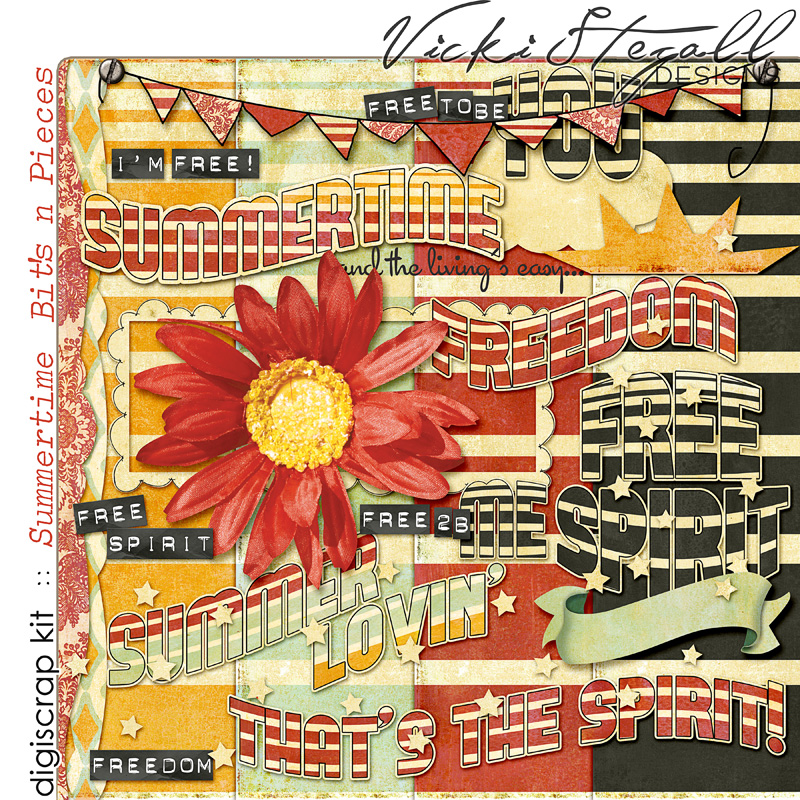 Here are the Rules: